10,000+ (Files)
180+ (Interfaces)
40+ (AddOns)
290+ (Skins)
1,500+ (Interfaces)
3,800+ (Interfaces)
150+ (Layouts)
50+ (AddOns)
Modify your game!
Interfaces & AddOns allow you to personalize your favorite MMO.
MMOUI supports the largest community of authors, which provides you with the largest selection of Interfaces & AddOns in one location.
Posted By: (Cairenn) - May 20, 2013, 7:55 pm EST
Patch 5.3, Escalation
is currently slated to go live tomorrow, 21 May 2013.
As always, we here at WoWInterface will have our
AddOn Survival Guide
up and running to help you find when and where your favourite addons are updated for 5.3. Authors please note that we've got the 5.3 compatible tag enabled now.
From Blizzard's patch notes for 5.3:
Of immediate interest for our community are the
UI
changes:
In-game support system is now a direct portal to the Battle.net Support site, allowing players to access the knowledge base and support contact system.
Dungeon Journal has been reorganized. The model view has moved into a sub-tab and replaced with a listing of bosses for the dungeon or raid.
A new option to display pet tamers on the world map has been added. This should help players looking to find unlocked Pet Battle daily quests.
When using name plates, castbars will now display for all creatures and players in the area.
General changes include:
Four new scenarios:
Battle on the High Seas
Blood in the Snow
Dark Heart of Pandaria
The Secrets of Ragefire
A
new battleground:
A new
arena:
They will also introduce
Heroic Scenarios:
A Heroic difficulty for Scenarios have been added and are designed to provide challenging content for small groups of well-seasoned adventurers. Completing a Heroic Scenario awards Valor points, and a chance to obtain high level Epic quality items.
Heroic Scenarios require a pre-made group to join.
Heroic Scenarios offer bonus objectives that will reward additional valor if completed.
An option to run a random Heroic Scenario has been added as a drop-down in the Scenario tab in Dungeon Finder.
Players can complete a normal or Heroic Scenario for bonus valor each day, but not both.
Six Heroic Scenarios will be available in patch 5.3. Four are new and two are upgrades of existing normal Scenarios.
Battle of the High Seas
Blood in the Snow
Dark Heart of Pandaria
The Secrets of Ragefire
Crypt of Forgotten Kings
A Brewing Storm
As well is the introduction of the
Quest Campaign: Escalation
The Darkspear Trolls are in open rebellion against the Warchief! Aid your faction in preparing to rout Garrosh Hellscream from Orgrimmar
Alliance heroes will scout Orgrimmar's outskirts and engage in SI:7 espionage to weaken Garrosh's power structure.
Horde heroes will help Vol'jin's insurgency survive a Kor'kron assault and advance towards the Horde capital.
Visit Lorewalker Cho at the Seat of Knowledge in the Vale of Eternal Blossoms to begin questing.
Along with the
Battlefield: Barrens
Put the stranglehold on Orgrimmar by undermining the Kor'kron supply chain in Northern Barrens.
Collect resources by killing Kor'kron loyalists and their supporters.
Get a group together to kill Kor'kron leaders for bonus resources.
Escort your faction's caravans across the zone for even more additional resources.
The Darkspear Rebellion will reward your efforts to undermine the Warchief by helping you upgrade Latent Kor'kron Armor into useable gear.
Participate in the Escalation Quest Campaign to learn how to engage in the Barrens conflict.
The Legendary Quest Continues
Journey with Wrathion to the four corners of Pandaria to speak with the August Celestials.
Champions will have had to complete Wrathion's earlier tasks (including "Heart of the Thunder King") to continue.
And there are
Brawler's Guild Updates:
Test your might against two new tiers of bosses in the Brawl'gar Arena in Orgrimmar or Bizmo's Brawl Pub in Stormwind.
New VIP areas are now accessible for brawlers at or above rank 8.
Bizmo has raised the floor in his arena to hide the bodies. Or... maybe to improve the sight lines. We'll never know for sure.
Special "Challenge Cards" can now be acquired from mobs or reward satchels, allowing you to unlock unique bonus bosses.
Brawlers that manage to prove their mettle and reach Rank 9 will receive an additional invitation to the Brawler's Guild that can be traded or given to a friend.
Also of interest is that the Experience needed to increase from level 85 to level 90 has been reduced by 33%.
Source and full patch notes
Be sure to also check out Wowhead's Patch 5.3 Guide: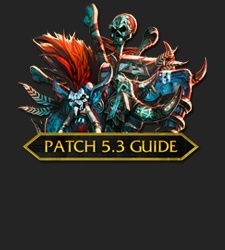 Posted By: (Cairenn) - May 14, 2013, 6:19 pm EST
Full details are
here
.
What do you think of the news?
Posted By: Drakah - May 14, 2013, 12:00 pm EST
Highlights
The four progressive Living Legacy raids -- Infinitely Regenerative Automaton (1 and 2), Eothar the Sand Golem, and the Avatar of Despair -- will be available from May 24th, 2013 to June 17th, 2013.
Added melee skill and spell reuse timer groups to the combat abilities window and spell description window. Now conflicts can be seen without having to activate the skills or spells.
Added the /stopdisc command, which will cancel any currently running discipline.
You can now set options to click through yourself, pets, and mercenaries when clicking on the screen. These settings can be enabled in the Options window.
Created the /useitem command, which allows for socials to be created that activate clickable items. See below for details and how to use it.
Retuned several Rain of Fear missions to reduce their overall difficulty. See details below.
Increased the time of the Bottle of Adventure III and Bottle of Shared Adventure III to 4 hours.
UI
Fixed some spacing issues and typos in the atlas for Luclin.
Added melee skill and spell reuse timer groups to the UI. For melee skills, you can see the timer groups in a new column in the combat abilities window. For spells, this information will now appear in the spell description window.
- Changed -
EQUI_Animations.xml
EQUI_CombatSkillsSelectWindow.xml
EQUI_OptionsWindow.xml
Source and full patch notes
Posted By: (Dolby) - April 30, 2013, 11:23 am EST
Scars of the Awakened (GU66) has been released upon EverQuest II today and with it brings a large number of changes and additions to the game. I have
posted a compare
of the default interface for your reading pleasure. There looks to be a lot of small changes so please be patient while authors fix their UI's.
Features:
New overland zone, Cobalt Scar: Includes a new story quest line and new collections
New dungeon, Siren's Grotto: Includes Solo, Group, and Raid challenges
New Tradeskill quest line
New Tradeskill Apprentice daily tasks
Class updates based on feedback
PvP reward updates
GU66 Patch Notes
GU66 UI Compare
Posted By: Drakah - April 18, 2013, 9:06 am EST
Highlights
Shadow of Fear, the second chapter in Rain of Fear, is now available to everyone who has Rain of Fear!
Explore two new zones: Chelsith Reborn, and the mysterious Plane of Shadow, with new quests, missions, and raids!
Every class has new Alternate Advancement abilities, spells, or disciplines available!
All weapon and shield ornamentations that are purely cosmetic (augments that do not offer stats or spell effects) no longer require a solvent to remove.
Hero's Forge robe augments can now be used on any leather armor.
Created a new skill, Two-Handed Piercing, and renamed the existing Piercing skill to One-Handed Piercing. All existing characters will be granted equivalent skills in both types of piercing (where applicable to their class).
UI
Added more appropriate minimum sizes to some of the windows.
Added the ability to pull up the bazaar search (Shift+Ctrl+Left Click) and barter search (Shift+Alt+Left Click) windows from multiple different locations like inventory slots or item links.
Changed the selections in the Loot Nodrop confirmation pulldown. "Sometimes" is now named "Not Usable". Additionally, updated /lootnodrop to now accept "usable".
Added check boxes to filter mercenaries and pets in the Tracking Window that tie in to the existing All, Group or None filters.
Converted all of the dragitem TGA files to the DDS format to reduce memory requirements. If you maintain a UI that uses custom images, we suggest you define these images in another XML file and add the name of that file to EQUI.xml instead of adding them directly to EQUI_Animations.xml.
Corrected many icons that previously bled into each other.
Added many more usable icons to the game.
Converted the location of where we define a window as "Escapable" from the code to the XML for that window. There is now a new XML tag that we recognize "Escapable". By default, all windows that don't have this tag will default to closing when pressing 'Esc'.
Added the ability to set "'Esc' to Close" to the default context menu for all windows.
Changed defaults.ini to force many windows to not be escapable by default to address clients using custom UI's that haven't been updated.
The SC icon will now flash and broadcast a message when an item goes on a flash sale. Clicking the SC button will take you to that item.
- Changed -
EQUI_ActionsWindow.xml
EQUI_AggroMeterWnd.xml
EQUI_AlertStackWnd.xml
EQUI_Animations.xml
EQUI_AuraWnd.xml
EQUI_BreathWindow.xml
EQUI_BuffWindow.xml
EQUI_CastingWindow.xml
EQUI_CastSpellWnd.xml
EQUI_ChatWindow.xml
EQUI_CombatAbilityWnd.xml
EQUI_CompassWnd.xml
EQUI_EQMainWnd.xml
EQUI_ExtendedTargetWindow.xml
EQUI_GroupMentorWnd.xml
EQUI_GroupWindow.xml
EQUI_HotButtonWnd.xml
EQUI_LargeDialogWnd.xml
EQUI_MailCompositionWindow.xml
EQUI_MercenaryManageWnd.xml
EQUI_MusicPlayerWnd.xml
EQUI_OptionsWindow.xml
EQUI_PetInfoWindow.xml
EQUI_PlayerWindow.xml
EQUI_PotionBeltWnd.xml
EQUI_ShortDurationBuffWindow.xml
EQUI_TargetOfTargetWindow.xml
EQUI_TargetWindow.xml
EQUI_Templates.xml
EQUI_TrackingWnd.xml
SIDL.xml
Source and full patch notes
Posted By: (Cairenn) - April 9, 2013, 5:41 pm EST
Blizzard has announced that they are adding a feature-limited web browser to World of Warcraft that will replace the in-game support system with a direct portal to the Battle.net Support site. Their aim is to give players in-game easy access to the site's robust knowledge base and support contact system.
Source and full details
(No, this one isn't an April Fools joke.)